Read More
Topics: Mobile Learning, Training, mLearning, Business, Microlearning, Educational Technology, Learning & Development, Human Resources
Need-to-know information is constantly changing for healthcare professionals, and staffing challenges make taking time away from[1] patient care increasingly difficult.
Training often gets overlooked, which can lead to employee burnout, low staff morale, and ultimately poor outcomes.[2] Mobile training lets you build training into your business process so that your team can learn on their schedule.
As healthcare facilities already struggle to keep patient load down, training and development efforts can seem like the least of concerns, but smart investments in training pay real performance dividends. Below are three of the top issues facing training and development in healthcare and how mobile learning can help solve them.
Read More
Topics: Mobile Learning, Training, mLearning, Microlearning, Learning & Development, Human Resources, healthcare, Hospital Training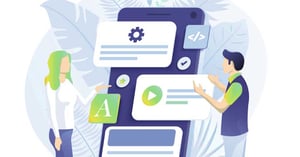 Several years ago, the golden rule was that every company needed a website. Now, every company needs its own mobile app. But mobile apps aren't just for loyalty programs, online sales, and customer service. Top companies in every industry are also turning to mobile apps for training.
Let's face it: knowledge is power. Training your employees on policies and standards, keeping them abreast of new products and trends, and improving their skills in the workplace gives your company the edge it needs to succeed in an increasingly crowded market. Mobile training combines revolutionary pedagogical approaches to learning with the convenience and flexibility of mobile technology to drastically improve your training efforts while also reducing your training costs. And in the business world—that's called competitive advantage.
Still not convinced? Below are four important reasons why your company needs to invest in a mobile app for training:
Read More
Topics: Training, Business, Content, Learning & Development, Human Resources